Report finds ability of public services to overcome addiction and break the cycle of illicit drug use and crime has been reduced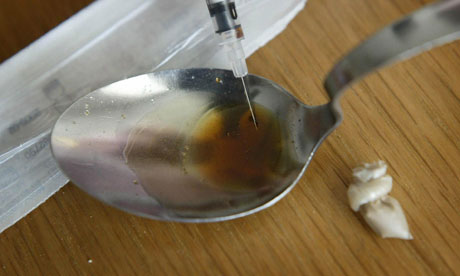 Research by the UK Drug Policy Commission looked at the impact of rapid structural reforms on the ability of the public services to tackle drug problems. Photograph: PA
Of the coalition's changes to the public sector, it is the spending cuts that have had the most attention. But research on the government's reforms to police, justice, health and local council services in England warns that these systemic changes, and not just the cuts, risk reducing the ability of local areas to respond effectively to problems caused by illicit drug use.
The research, by the UK Drug Policy Commission, aimed to understand how public services tackling drug problems are adapting to rapid structural changes at the same time as they absorb budget cuts.
Across the country, we found that the way in which reforms are being introduced risks reducing the ability of drug and criminal justice services to overcome addiction and break the cycle of drug use and crime.
Unintended consequences
At the national level, there is little evidence that the government has sought to fully understand or manage the consequences of far-ranging public service reform.
This was particularly apparent when we looked at how the individual changes to police, health and local council services are interacting with one another. The fact that drug services cut across a number of different services makes them particularly vulnerable to the wide variety of reforms.
One of the lessons from places that have been successful in tackling drug problems is the importance of different agencies working together. Good co-operation between health and criminal justice bodies is particularly valuable. Yet, our research found that this relationship is under threat in many areas.
In part, this is the consequence of spending cuts. Services facing budget reductions, like the police, are choosing in some cases to focus on their core activities, reducing the amount of time they devote to partnership working.
But the structural reforms also threaten these important local relationships. Health and wellbeing boards will oversee public health, but in most places boards do not include criminal justice representation. Police and crime commissioners will introduce new priorities as leaders of areas whose geographical boundaries will not match those of either health and wellbeing boards or clinical commissioning groups.
There is a similar danger of fragmentation in the commissioning of drug treatment. People with drug problems often have mental health issues and may spend time in prison. Yet while local public health departments will have responsibility for most drug treatment, mental health will be the responsibility of clinical commissioning groups and prison services will be led by the national commissioning board.
Managing the reforms
Nevertheless, if the risks are successfully managed, the reforms have the potential to improve drug services. The principles of increasing local control of decision-making and paying public services by results are admirable, but the challenge is to introduce the reforms without producing unintended consequences.
There are some areas that we found to be not only managing the risks in the transition but also using the reforms to become more efficient.
One of the factors in their success has been the protection of local co-ordination between bodies working in different services. In the creation of new structures, current reforms risk undermining existing links; it is important that local areas act to ensure health and criminal justice agencies continue to work together.
As central government reduces its control of services, it will also be crucial that local commissioners, including directors of public health and police and crime commissioners, base their decisions on sound evidence about what works to bring health and crime benefits to communities. They will need ready access to this evidence, which often can only be efficiently generated at the national level.
The speed and scale of reforms, combined with financial pressures, are changing the landscape for everyone working to tackle drug problems. How far local areas can take advantage of the reforms, while not losing the benefits of the old structures of delivery, will be crucial for vulnerable service users as well as for communities affected by drugs.
The report, Charting New Waters: Delivering drug policy at a time of radical reform and financial austerity, is available to download from UKDPC.
Helen Beck is senior policy researcher at the UK Drug Policy Commission
This article is published by Guardian Professional. Join theGuardian Public Leaders Network free to receive regular emails on the issues at the top of the professional agenda.